Avel's standard general-purpose transformers are available with dual primary windings for operation at 50/60 Hz, and series or parallel connection. They incorporate dual secondaries that can be used in series, parallel or independently, in a range of voltages and VA ratings to suit most power and electronic applications.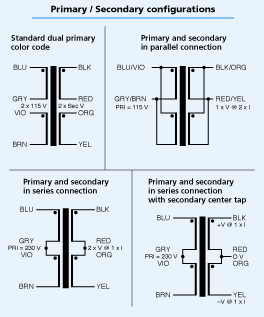 This combination of windings enables one component to be specified both for domestic use and for export to other countries where line voltages differ, as well as providing several secondary power configurations. If your application requires a power supply configuration that cannot be met with our standard range of transformers, our custom transformer service is ready to design a transformer to your precise needs. This may be just a slight modification to our standard range or a unique custom design.

The next few pages contain a general guide to some of the criteria that should be considered when specifying a custom transformer.